Analytics

www.thecoinrepublic.com

36 m

---
Solana Coin (SOL) started moving above the upward trendline.
SOL price action shows the price holding above the previous swing low.
The price of the SOL pair with BTC is up 1.7% at 0.001751 satoshis.
Solana crypto investors narrowly avoided another price drop. Recently the bulls were able to hold the crypto above the previous swing lows and this price stability indicates a positive sign for the upcoming trading sessions.
Solana is a major support level for the bulls in the $25 area. Conversely, the $47 to $50 level could act as an upcoming resistance area.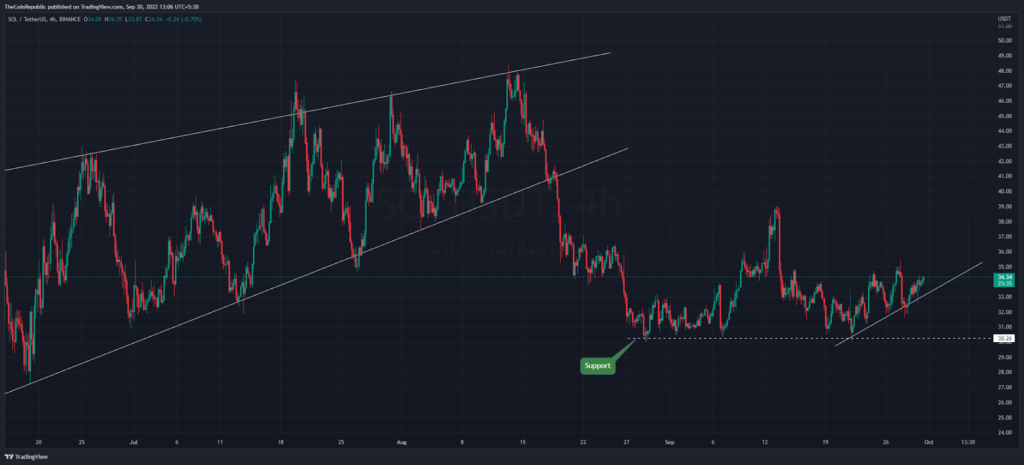 Source: SOL/USDT by tradingview 
Once again buyers manage to sustain Solana crypto above previous swing low. It seems the retracement phase is over as price often failed to move below the immediate round level of $30. Thus asset price draws the higher-lows pattern in a 4 hours time frame, suggesting the short-term uptrend has started. 
At the time of writing, Solana crypto is trading at $34.2 mark along with 1.9% intraday gain. Also the price trend shows recovery in price and this pattern constructs the double bottom above the key support level of $30. Similarly,  the pair price of SOL along with BTC is slightly up 1.7% at 0.001751 Satoshis. 
SOL Crypto Reaches at Next Bullish Hurdle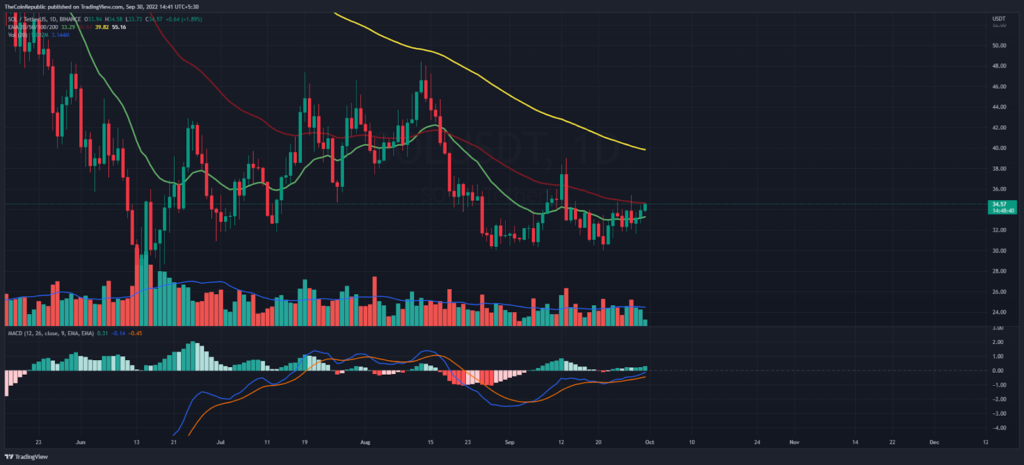 Source: SOL/USDT by tradingview 
Buyers have completed their first level of short-term bullish momentum as they maintain SOL price higher above 20 day exponential moving average over the daily price chart. Now Solana crypto is approaching 50-EMA to record a strong rally.
Although trading volume is decreasing down below the average moving line. Likewise, MACD closes to move above the neutral zone but histogram shows weak momentum. 
Conclusion 
Solana crypto is observing under 50 and 20 day exponential moving averages amid price recovery. During price recovery MACD shows slightly bullish momentum but trading volume is not sufficient for rapid rally. 
Support level- $30 and $25
Resistance level- $38 and $50
Disclaimer 
The views and opinions stated by the author, or any people named in this article, are for informational ideas only, and they do not establish the financial investment, or other advice. Investing in or trading crypto assets comes with a risk of financial loss.
---