Analytics

www.thecoinrepublic.com

1 h

Reading time: ~2 m
---
Cardano will launch a fully fiat-backed stablecoin in early 2023. Meanwhile, they will also be launching a privacy blockchain.
ADA coin price is currently seeing downside momentum. ADA/BTC pair has seen a fall of 0.19% in the intraday session.
Input Output Global (IOG), the organization behind the Cardano blockchain, will release a new privacy-focused blockchain called Midnight. They will also launch a token called dust for the network. It will be based on Zero-knowledge proof technology. Cardano will also see the launch of a stablecoin in the earliest of 2023. It will be fully fiat regulated and regulatory compliant. Cardano has also observed staking of 8.2 Billion Dollars next to Ethereum.
Cardano is currently ranked 9th in the cryptoverse with a market cap of $11,132,281,790.The asset price volume has decreased by 10% in the past 24 hours. The ADA's volume-to-market cap ratio suggests a consolidated price trend.
Technical Indicators Of ADA Favors Downtrend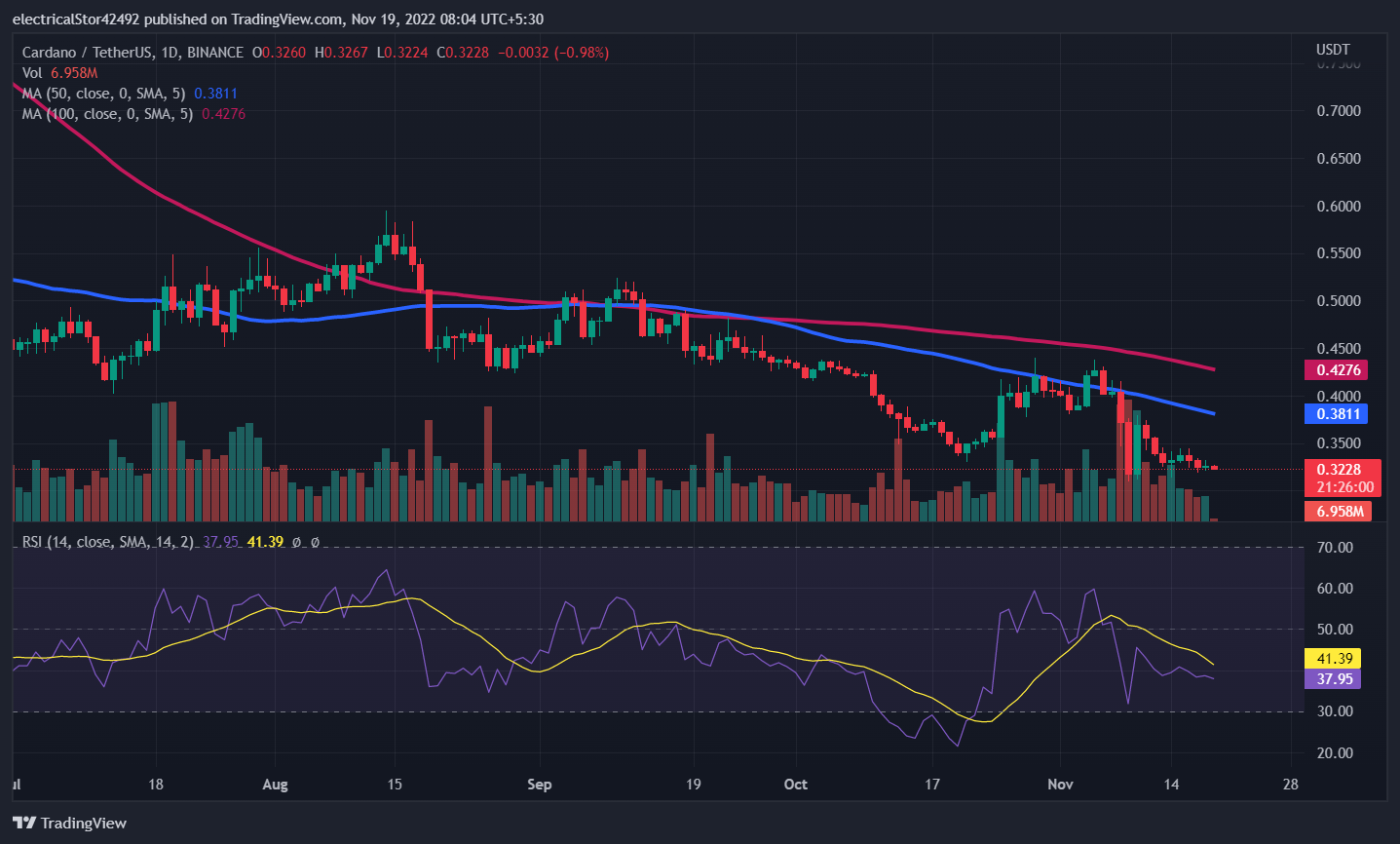 The weekly technical chart of the Cardano suggests a consolidated trend in price. On coming to the daily chart, ADA is trading near the value of $0.32. It is currently trading below the 50 and 100 Daily Moving Averages. Resistance of Cardano on the upside can be seen near $0.5. Meanwhile, support for the coin can be seen near $0.2. If Cardano drops below $0.28, a strong downtrend can be observed.
RSI: RSI of the ADA is currently near 37, highlighting its presence in the overbought zone. Meanwhile, there is a downside slope formed, suggesting a downside trend for the future.
Conclusion
Cardano has been struggling to maintain above the threshold of $0.45. With the fall of FTX, ADA has seen less impact than others. The asset price may see an upside momentum in the future.
Disclaimer
The views and opinions stated by the author, or any people named in this article, are for informational ideas only, and they do not establish the financial, investment, or other advice. Investing in or trading crypto assets comes with a risk of financial loss.
---